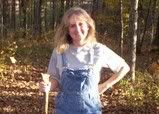 To read more About Me and view my current auctions, just click on my photo.
I remember loving to use my hands to make things since I was a young girl. Just give me any little scrap of fabric, a needle & thread and I was one happy girl! I haven't changed much. I'm still passionate about creating things to make my home a pleasant place to be. I truly enjoy sharing my work with others as well.
I must say that I am a bit partial to early style stitcheries & primitives dolls. Here is a sampling of my work ~
I am so thankful & blessed to be part of such a lovely group of talented Christian artists. Take a peek at their work. You won't be disappointed!