I love this photo I came across and I know it was meant to be shared. It reminds me of what my Grandmother's Christmas wardrobe might have appeared like. I find myself enchanted with those simpler times well, it seems simpler to me in my hectic life thoughts today but, I am sure I can NOT imagine how hard her life was then really. Getting up to get the chicken eggs and have a hot breakfast, getting the stove going for hot cocoa as she called it (hot chocolate to me)
??

I yearn to re-visit many of her days in my altered art mixed media Primative Style. When I can relax and get involved in my art, it journeys me to a place I desire to stay. I am collecting all kinds of abandoned items to recycle them for another use.
I have old windows, screens, boards, cans, bottles, fibers like yarns, ribbons, fabrics and vintage laces, crochet, etc. I could go on and on.

I shall share them with you as I embellish what is in my head. When I see it, so will you. Smiles,

My first sale was Four Halloween Pumpkins this FALL 2007 to Canada.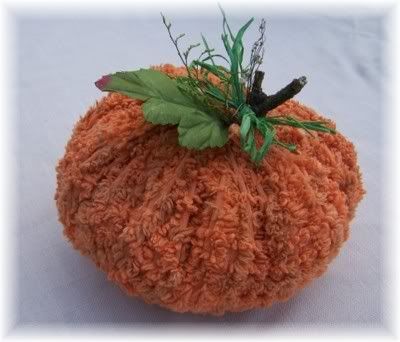 and I have to list my altered art wall cone? tussy mussie?



I am working on a new banner for my Blogger site! I am honored to be in Glad Tidings Groups and I BELIEVE!
smiles, cyndi

OH Lord, Thou didst create the earth for man, and gave him the fruits of the earth and of the flocks and herds for his support, and hast said that food is to be santified by prayer. Santify this food to us, and us to Thy service for Jesus' sake. Amen"