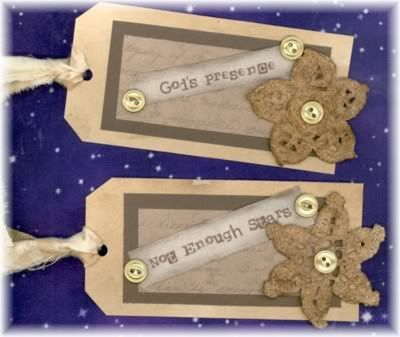 I've always been fasinated and drawn to the idea of the old hang tags. I've even had them hanging on my Christmas Tree as ornaments. They remind me of "the olden days" when packages were wrapped in old brown paper, tied with a string, and the address was printed lovingly, in your best handwriting, on a manila tag.
Suitcases travelled with these tags on them, identifying the owner. Who would have throught that us primitive crafters would turn them into works of art????
Ever since I started making angels from old quilts and linens, I've included a tag to go with each one. Whether it be a Bible verse, a poem, or a short saying, it relayed a message to the recipient of the angel.
I've received so many requests for these tags to be sold separately. I've put just a little more work into them, "gussied them up" so to speak, and have started offering them for sale on ebay! You can see them in my ebay sales here: