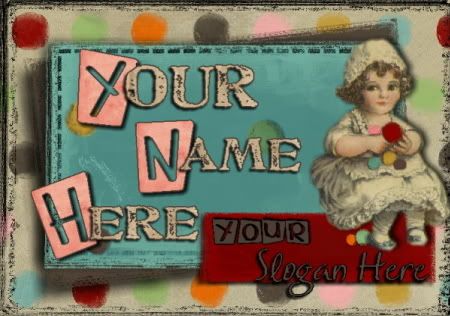 I just finished my first Folkart Template Design. It is simply called "Folkart Dots". It features a sweet vintage image of a little girl from an Ellen Clapsaddle postcard, and I made all of the graphics and backgrounds from scratch. If you'd like to view the entire template, please just click on the banner above.
I have offered the template or just the banner as a free give-a-way on the One World-One Heart give-a-way blog. If you'd like to enter for a chance to win, please click here to visit the post and leave a comment!
Linda*Pinda*Designs Free Template
As always, the template is just one item offered of this design.
The banner is available as a Webpage/Blog Banner.
There is a matching About Me Page, as well as
An Artisan Certificate:

An Ebay Store Logo:


A Square Web/Advertising Button:

And a Web/Exchange, Blog, or Etsy Banner:


(customized to the size you need!)
Thanks for peeking! I'll be working on some more designs, so check in at my Ebay Store or on my blog for the latest.
Until next week, may God bless you and gift you with knowing how much He loves you...
Hugs... *Linda*