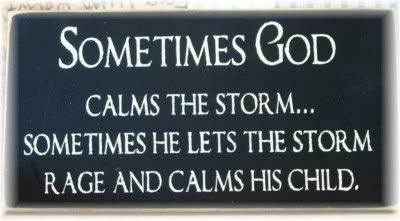 I'm taking the liberty to post today for Patti, as she has been so overwhelmed lately with the illness of her Mom and still trying to take care of her family and business at the same time.
In looking over her items for sale on Ebay, This one just stood out to me today as I thought about Patti and prayed for her. Please pray that God will calm her storms and give her the perfect peace that passes all understanding as she keeps her heart and mind on Christ Jesus!
You can see all of Patti's beautiful signs on Ebay. But be careful ---- you can't buy just one!!!! I'm sure you will want to cover your walls with them all!
http://stores.ebay.com/Pattis-Primitive-Signs