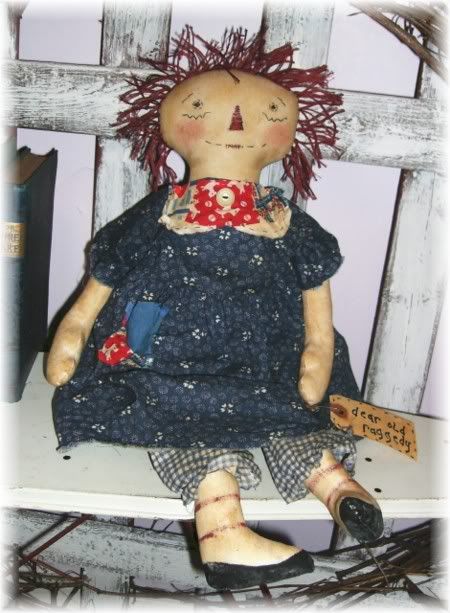 Let me introduce myself!
My name is Sue and I am a born again Christian! Serving GOD everyday is the joy of my life! With HIM I can face any trial or hardship.I share my love and passion for Christ with my darling hubby of 23 years.Since an accident at work my hubby has been home and is now unable to work. We enjoy biking and gardening together. I am enjoying more time with him and am glad to have him home with me!!!!
I thank GOD for giving me the talent to sew. Making dolls is truely a creative outlet for me.One year on vacation, I found a Raggedy doll pattern and my childhood love of raggedies came back to me. I have been making them ever since.As you can see in this old photo my love of Raggedys goes back to the age of 3.My little sissie in this pic is now my computer helper!!!As my Ebay name implies the dolls will mostly be raggedy annies-why bother with anything else if you can make a raggedy!!! LOL !!! But I also do make some snowmen and bowl fillers from time to time.I love working at home so I can still take care of the little ones when I need to and also help my Mom.The kids are my real dolls!!!
Ebay has been a blessing,I can make dolls year round to sell. I want to thank all of you who have adopted my raggedy babies!!!!My other dear sissie also sells on Ebay under the name of trinityridgebecky; check out her wonderful handmade items.I belong to a wonderful group of ladies on ebay,Glad Tidings Primitives and Folkart.
My prayer is that in all I do,I will glorify my Lord and Saviour JESUS CHRIST.John 3:3 Jesus declared," I tell you the truth,no one can see the kingdom of God unless he is born again" Raggedy hugs and wishes for all of you to have a happy,healthy Year!!!!!!! Raggedy hugs!!!!!!!
Please visit my auctions at: